Drennec Lake, located in the heart of the Monts d'Arrée, in the Finistère region of Brittany, is accessible to fly anglers until 31 October 2018.
The fishing season has now been extended to December 31 and the late season (September 20 to December 31st) is only open to fly fishing only on the entire body of water. With the more moderate temperatures, surface fishing with dry flies is now at its peak. Daddies (daddy long legs) on the water allow for some great lough-style fishing and should last until the first frosty nights, then followed by fry feeding season which usually attracts the bigger fish to the lake's banks.
The autumn months are usually quite mild here in the Monts d'Arrée, with great to excellent conditions for fly fishing, up until the end of the season.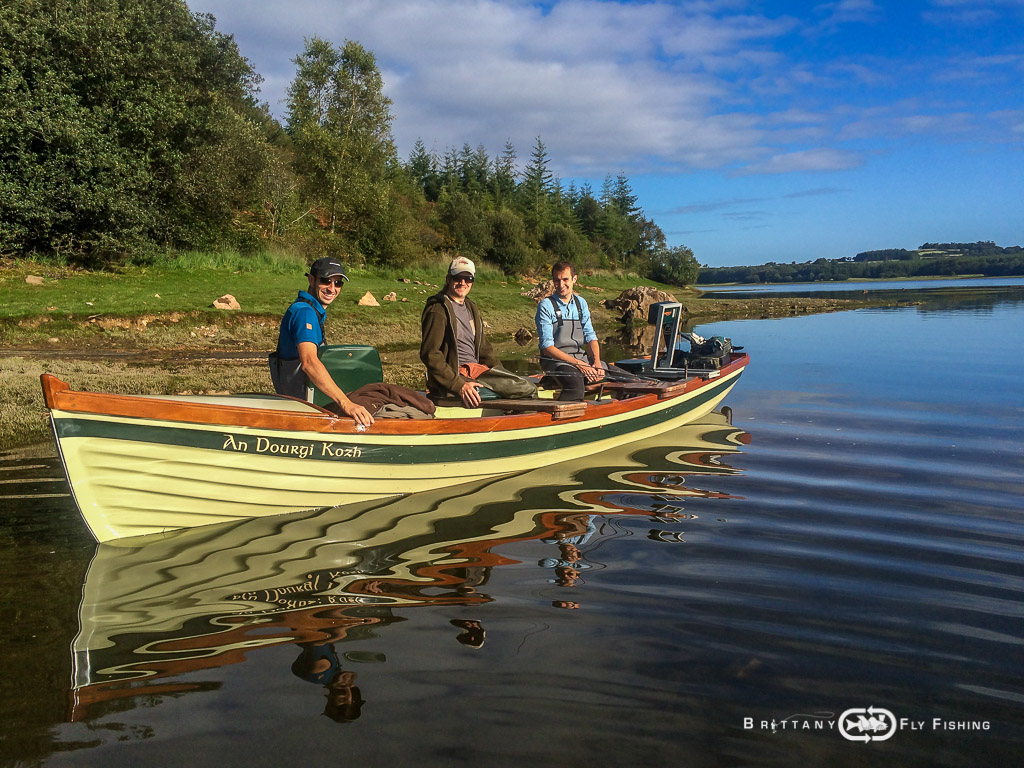 Wild fish populations have never been this good at Drennec Lake ever since its inception and catch results per angler per day are better than those had at the better British reservoirs.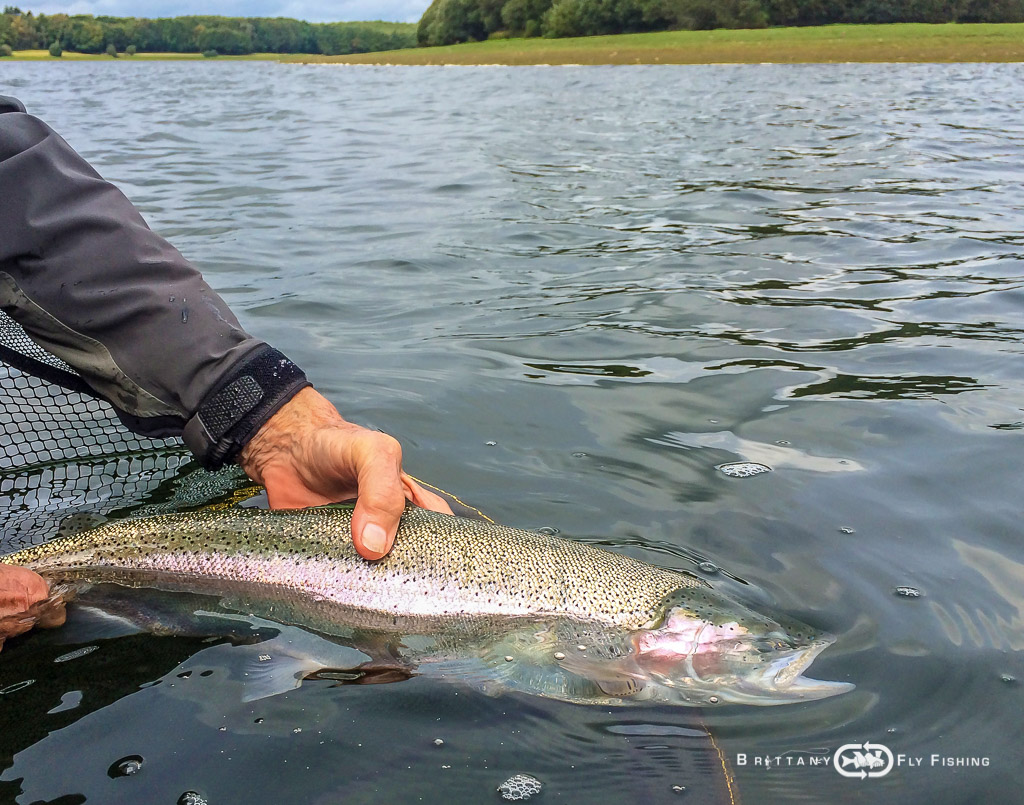 I now offer guided boat fishing using my 19' Sheelin Irish drift boat and/or boat rental with my powered 15' Sheelin Irish drift boat.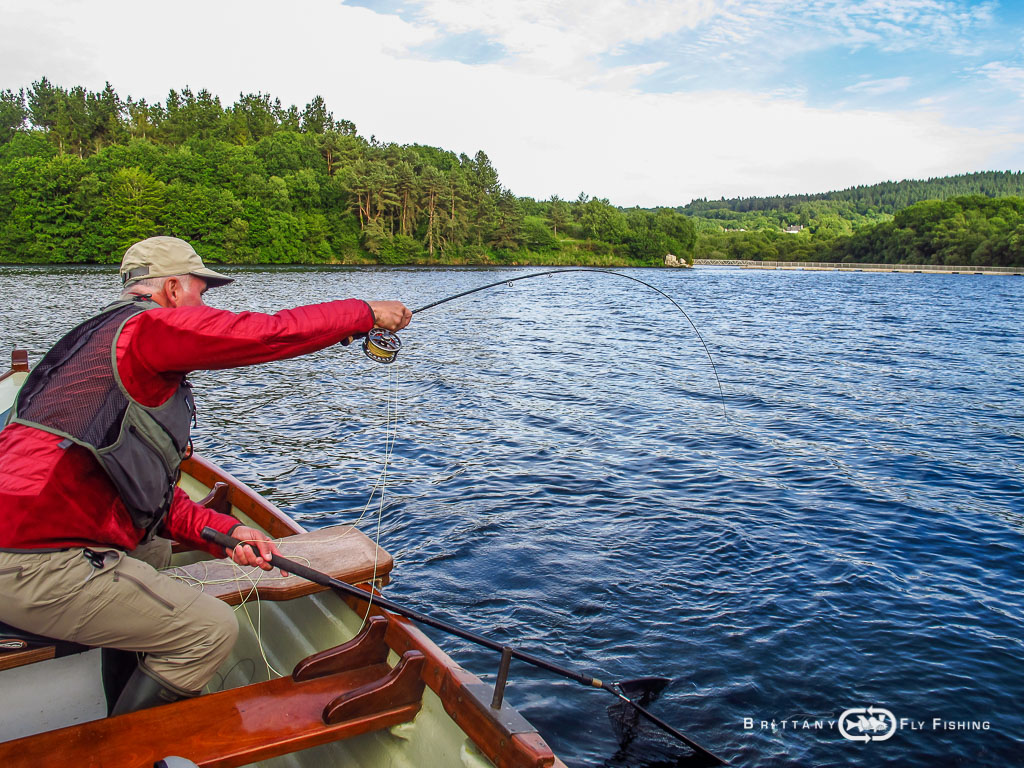 1. Guiding
If you need to work on your lake fishing skills, improve your casting abilities, would like to discover the subtleties of technical surface fishing (dry fly, wet fly, nymph fishing) , master fishing strategies and techniques or will want to get in depth-knowledge of fry feeding angling techniques, my guiding can definitely help you. I will see that you learn leader construction with droppers using the appropriate knots as well as other advice to help you discover the lake's biodiversity.
Example :
3 days over night in upscale B&B haut located 1km from the lake (3 nights, full board, 1 day guided fishing, 2 days boat hire). Starting at €660,- (single) or €969,- for 2 anglers. Other offers available upon request (couples, family stays or group rates).
Rates for daily guiding (up to 3 anglers maximum) with upscale tackle for hire, all flies and pick-nick, made of regional organic foods and produce, starting at €140,- per person/day (base 3 anglers). Individual guiding :€250,- per person/day.
Numerous non-fishing activities available in the region.
I can have my guests picked up at Brest airport or Morlaix TGV railway station.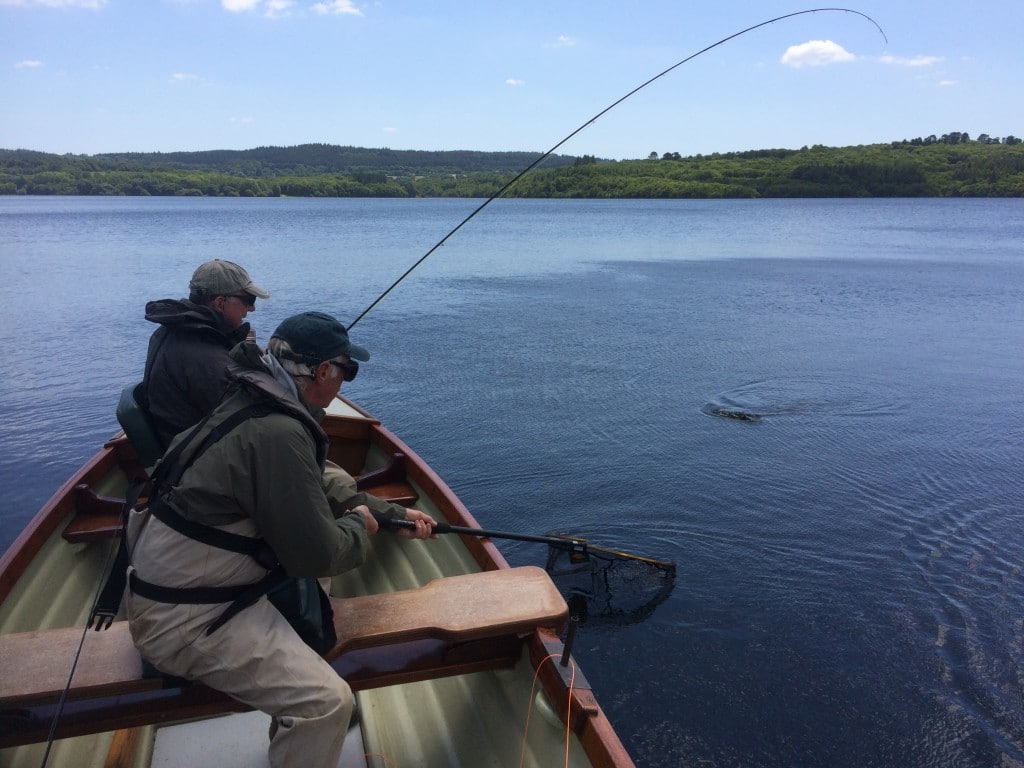 2. Boat hire
If you happen to be an advanced lake angler and just feel to spend a great day on Drennec Lake, either on your own or with friends and want to benefit from a perfectly adapted boat for all types of lake fly angling you should look no further. Tailor-made for angling my new boat for hire will offer you stability, comfort and perfect control even on windier days. Well-equipped and powered by electric motor, it will offer you a pleasant time on the water and help you explore all of Drennec Lake.
Rate : € 90,-/day, upon reservation only.
For further information : www.brittanyflyfishing.com/en/irish-drift-boat/