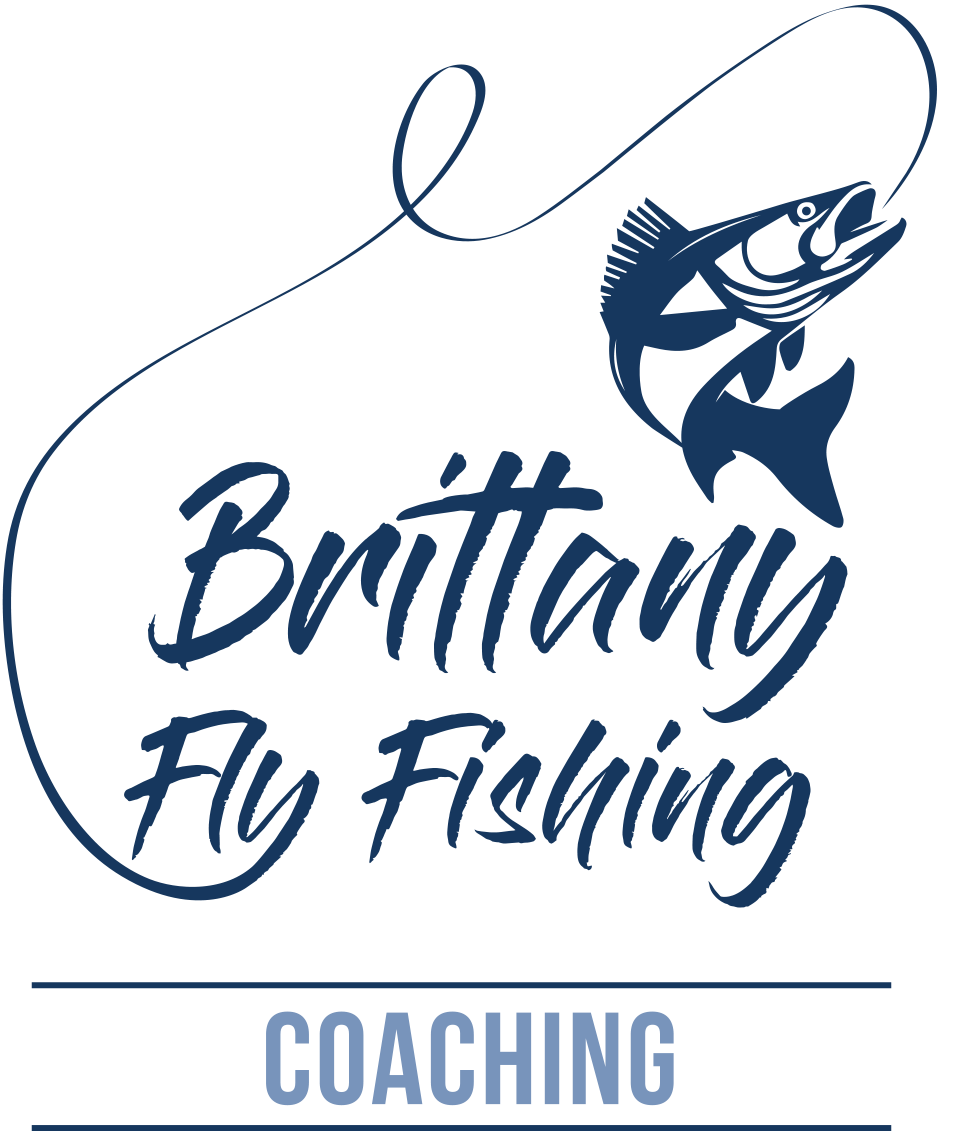 Freshwater fly fishing in Brittany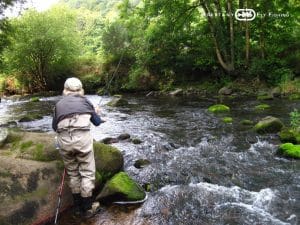 The watersheds of northern Brittany, in Finistère and Côtes d'Armor are the very best our region of Armorica has on offer when it comes to fly angling for wild brown trout, sea trout and Atlantic salmon. Whether they enter the sea in the Channel or the Atlantic ocean, our rivers that for the most part rise in the foothills of the Monts d'Arrée, merely a stone's throw from my home, flow with crystal clear pure waters and snake their ways through the heart of wild and protected valleys.
Only marginally impacted by pesticides, their abundant benthic wildlife and biodiversity is impressive with many insect species present: ephemeroptera, trichoptera, plecoptera as well as diptera. As the rivers often flow through wooded areas, terrestrial insects play a major role in a trout's diet at certain times in the year. Several baitfish species (minnows, loach, sculpins) make for a rich and varied menue.
Wild brown trout in Breton rivers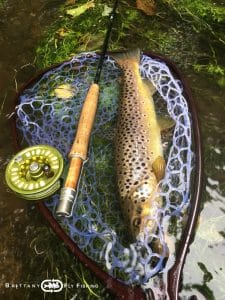 Depending on the rivers, their size and water volume, the size of the trout can vary a lot. On some rivers, a 12-inch fish is a beauty while in other rivers a fish of 16 inches does not really raise an eyebrow. There is great fishing for everyone, plain beginners or seasoned anglers. For all those obsessed with the hunt for elusive fish, Brittany has something on offer. Tethered to the end of a fine leader, a wild brownie of Atlantic extraction is a worthy opponent; whether you end up holding its bronze flanks in your hand at the end of the fight or if you have to wave it goodbye after a popped tippet, memories will last forever.
It will pay off to learn the strategies to tackle the bigger trout with a fly; I will help you along the way through my tuition and guiding. As a professional, I will give you access to my most secret trout haunts, off the beaten path. "To live happily, let's live in seclusion" – it's a saying that applies to daily life on the water with my pupils. I practice every method depending on the wishes of my guests and the prevailing conditions on the water: wet fly, dry fly, dry fly – dropper, nymph, polaroiding and streamer fishing.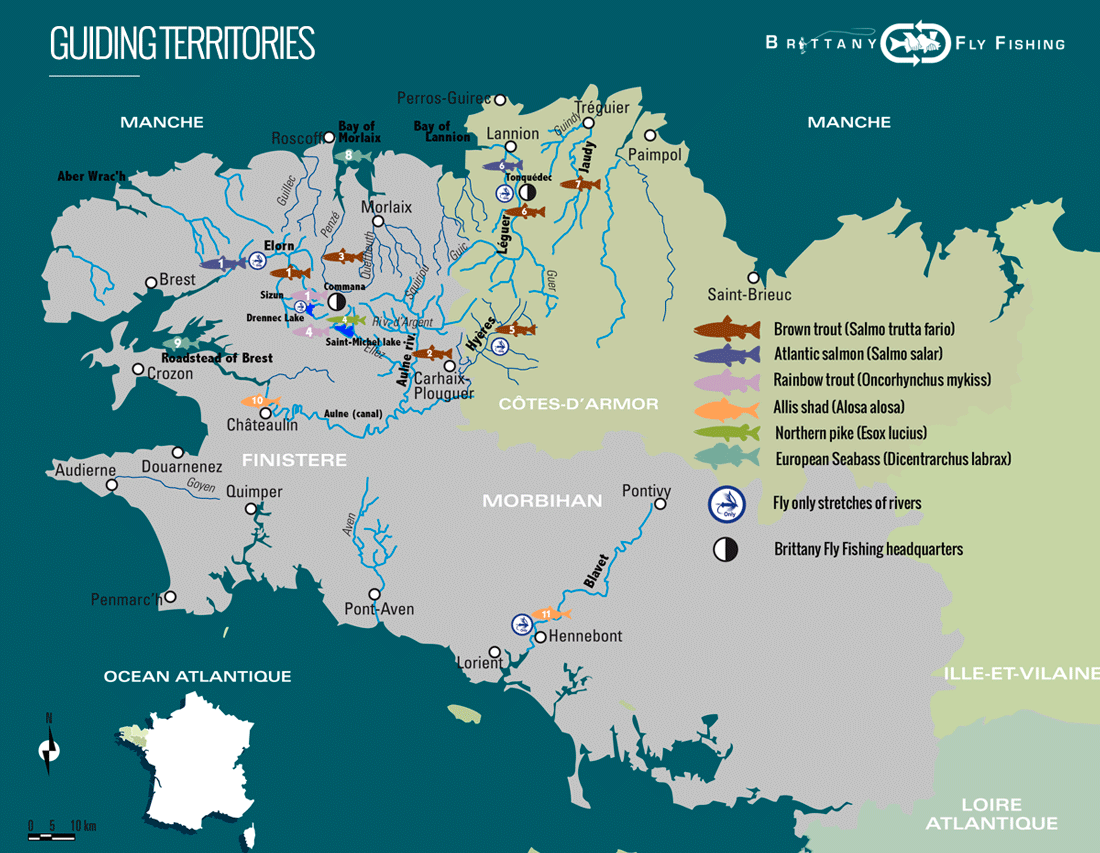 Fly fishing in stillwaters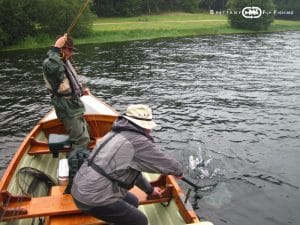 I am blessed to live in the heart of the Monts d'Arrée, mere minutes from the best stillwater fishing venues in Western France.
The first is Drennec Lake, located within the community I call home. It's a manmade water of some 110 ares with clear waters and tree lined banks, a paradise for anglers that love to tangle with wild brown trout and feral rainbows, both from the bank as well as from the boat, which is even better. Using my  Irish drift boat, I teach the subtleties of stillwater fishing , especially "lough style" tactics as it is commonplace in British and Irish waters.
The second venue is Saint-Michel Lake, also manmade and the realm of big pike. Some areas are quite shallow , its banks are wild and within the moorlands the area is famous for, turning the lake's waters into mysterious dark depths. It is superb angling water with is 450 hectares, located right amidst some of the most typical landscapes Brittany has on offer. Here again, my Irish drift boat allow me to introduce my customers to fly fishing for pike, one of my longtime specialties.
Introduction to fly fishing on a private water.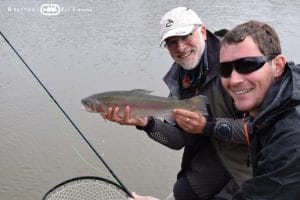 One of my masterpieces to help me teach the art of fly fishing is a private venue, about one hectare in size, that is entirely reserved to my newcomer students. Located within a private property, it is stocked with rainbow trout to about 10 lbs that have grown up in the lake. Those fish have been selected for their perfect morphology, they are also very much inclined to feed on the surface. Insect activity is varied and frequent so the venue translates into a perfect place to teach students the 101 of fly fishing, preferably using dry flies; be aware you will pop your leader on occasion!
It is also an ideal place for children to discover the fun angling has on offer (coarse and fly fishing): there are numerous carp and minnows!!
For experienced anglers I can offer summer sight fishing for specimen common and Asian carp to about 20 lbs.
Philippe Dolivet, bi-lingual fly fishing guide,
30 years of teaching fly fishing and casting can offer you to:
Trouts & salmons (rivers)
Fish unknown and protected rivers in the heart of wild Brittany, fishing for wild brown trout (Salmo trutta fario), sea trout (Salmo trutta trutta) and Atlantic salmon (Salmo salar).
Rivers : Elorn, Aulne, Hyères, Penzé, Rivière d'Argent, Squiriou, Ellez, Rivers of Morlaix, Léguer, Guindy, Jaudy.
Techniques : Wet fly, dry fly, nymph and streamer fishing.
Bank and wade fishing.
Seasons : April to late October.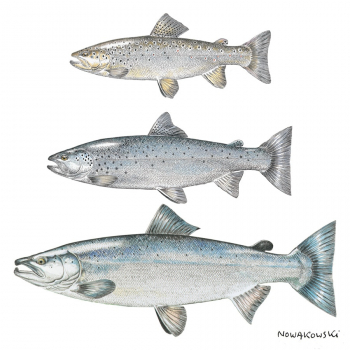 Trouts (lake)
Feral rainbow trout and wild brown trout.
Drennec Lake (110 ha), Monts d'Arrée.
Techniques : Drift fishing (loch-style), wet fly, nymph, dry fly and streamer fishing. Bank fishing (wading) and Irish drift boat fishing.
Best period (trout) : mid-April to end of October (Drennec Lake fishing closes on October 31, 2021).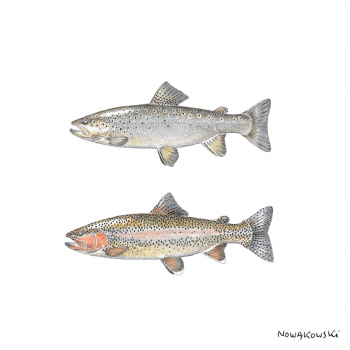 Allis shad (rivers)
Lower reaches of coastal streams and rivers fly fishing for shad (Alosa alosa).
Rivers : Aulne/Elorn (Finistère) & Blavet (Morbihan).
Techniques : One-handed and two-handed tackle.
Potential IGFA world records possible.
Peak runs : mid-April to late May.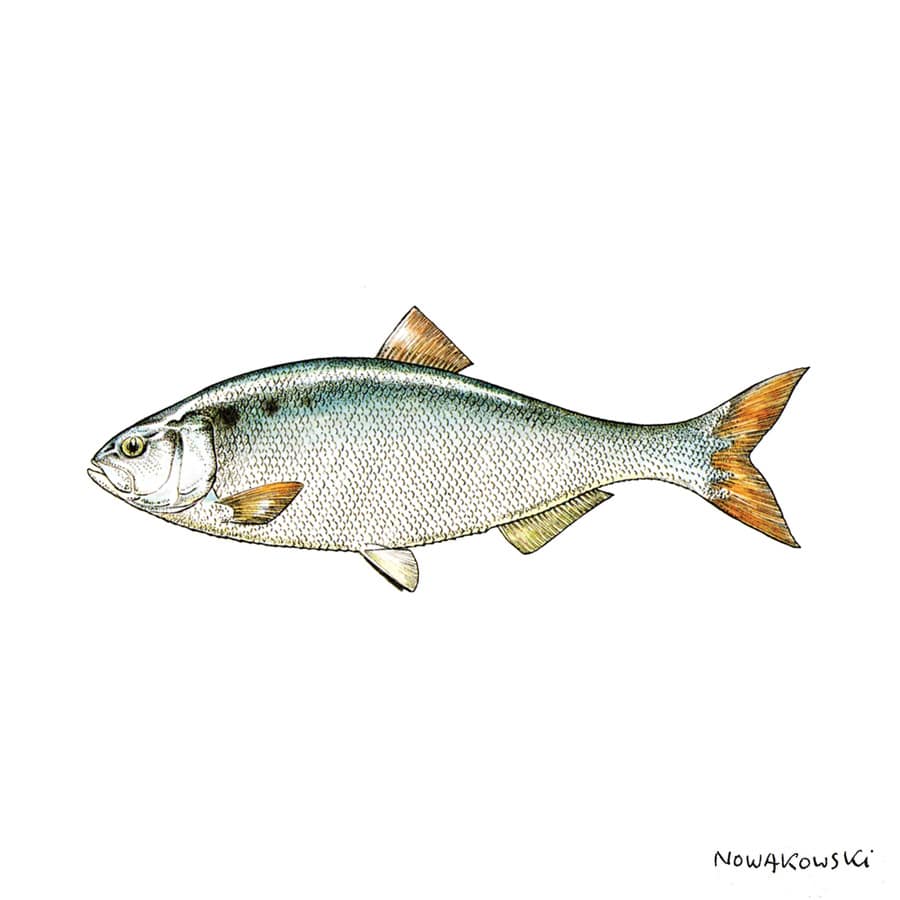 Trout & trophy pike (lake)
Rainbow trout (Oncorhynchus mykiss) and Trophy pike (Esox lucius) fishing.
Saint-Michel Lake (450 ha), Monts d'Arrée.
Irish drift boat fishing.
Techniques (trout): Drift (loch-style) fishing: wet fly, nymph, dry fly and streamer fishing.
Techniques (pike) : Streamer fishing and fishing with surface flies (poppers).
Best period (trout and pike) : April 24 to late December (Saint-Michel Lake closes late January 2022).