The best of fly fishing in Brittany, off the beaten track
You are dreaming of fishing with a fly and the secretive world of wild rivers is intriguing you, come and let yourself be tempted to discover the magic of the clear waters of the Monts d'Arrée in Finistère, Brittany.
Philippe Dolivet, internationally renowned fishing guide with 40 years of experience and fly casting under his belt can offer you:
Fly fishing tuition for trout in lakes, private ponds and rivers
Guiding and advanced classes fishing the most beautiful and pristine rivers in northern Brittany for trout, salmon and shad.
Boat fishing using an original Irish Sheelin drift boat on the regional lakes located in the Monts d'Arrée for trout and pike.
Sea bass fishing in the bay of Morlaix and Roadstead of Brest from a custom-made fly fishing boat.
Logistics and professional services – Our charming Swift Lodge 3 rooms B&B welcome you with unique fly fishing ambiance – Numerous non-angling activities for non-fishing guests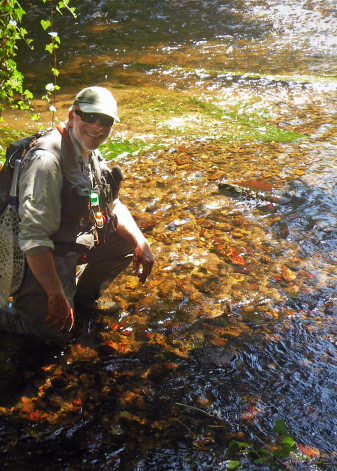 Lough style fishing in Brittany – March to October
Drennec lake , located in the heart of the Monts d'Arrée, in the French Département of Finistère, classified as  "Grand Lac Intérieur" – large inland lake , is open for fly anglers from early March to October 31st. On board his 19-foot Sheelin drift boat, Philippe Dolivet, licensed fishing guide and specialized in "loch style" boat fly fishing, will teach you the finer points of this thrilling angling method, fishing for the superb trout Drennec lake has on offer: both wild brown trout as well as feral rainbow trout are available. Beginner's and advanced classes will be available, for individuals as well as groups of anglers.
Fly fishing for sea bass in the Bay of Morlaix and the Roadstead of Brest, from June to November
Philippe Dolivet, IGFA-certified Captain, European sea bass fly fishing specialist, welcomes you aboard his specialized fly fishing skiff to discover the magic of the pristine waters of the Bay of Morlaix and the Roadstead of Brest. The rocky estuaries and coastlines of the Finistère region of the north-easternmost portion of French Brittany are a haven for travelling anglers targeting sea bass (Dicentrarchus labrax) on fly. The shallow waters are perfect for fly fishing tactics, chasing this merciless predator and great game fish. The hundreds of acres of very productive water can be accessed with a specialized seaworthy fly fishing craft,
 come and discover the subtleties of sea bass fishing with fly gear, on your own or with friends. Sea bass are an outstanding game fish species in their own right and can be found in numbers along the protected
 coastline of the Finistère. It represents a unique concept with upscale service for an unforgettable experience.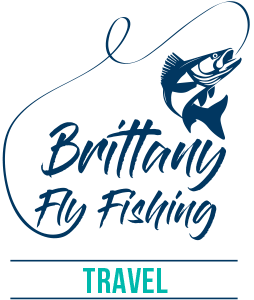 In partnership with Pollen Voyage (Garantie APST Lic. IM029100010) and Laurent Durris (M'Îles vague de Découverte), Brittany Fly Fishing organizes guided fly fishing trips to the island of Kéré in the Bijagos Archipelago (Guinea-Bissau).
Philippe Dolivet offers various fishing trips in Europe (England, Ireland, Austria), in the USA, Canada, the Caribbean and the Indian Ocean.