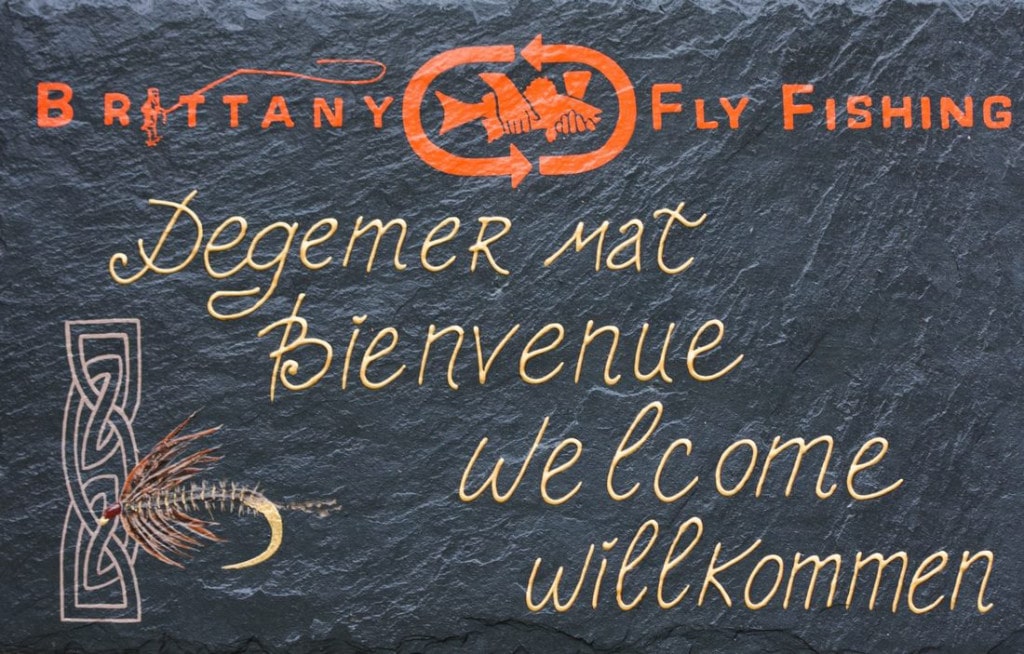 I had not been able to broadcast this news other than among my network of loyal customers up until now, but please note that for the better part of 2 seasons, my headquarters in Commana, located in the Monts d'Arrée at the foothills of the crest, have been operational as a Fly Fishing Welcome Center. Located in an old and entirely refurbished garage on my property, this room has been established to welcome my students, customers and any other visiting fly angler who happens to be in the area, in a cozy setting. I am located a mere 10 minutes from Drennec lake, from Saint Michel lake, from the Upper Elorn and Penzé rivers, etc.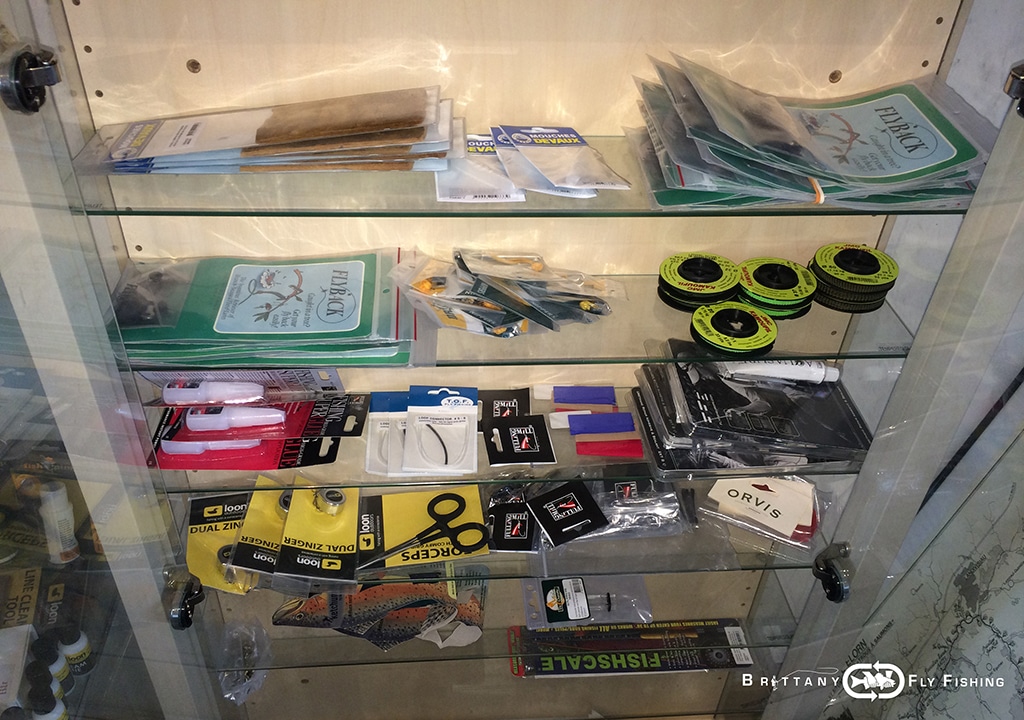 We have added a shop corner, a well-stocked little fly shop (term that seems to be all the rage these days!) with a fine selection of "nonstandard" and indispensable accessories for fly anglers: monofilament tippet recycler (the super smart Monomaster that I have been using since its inception, I am an official dealer for the brand), a fly retrieving tool called the "original FlyBack", line treatment products , fly floatants, leaders, tippet degreasers (ideal for stillwater fishing), line trays and shooting baskets (we're an official Linekurv dealer), different handy tools (Loon, Dr Slick, Tiemco) and many more.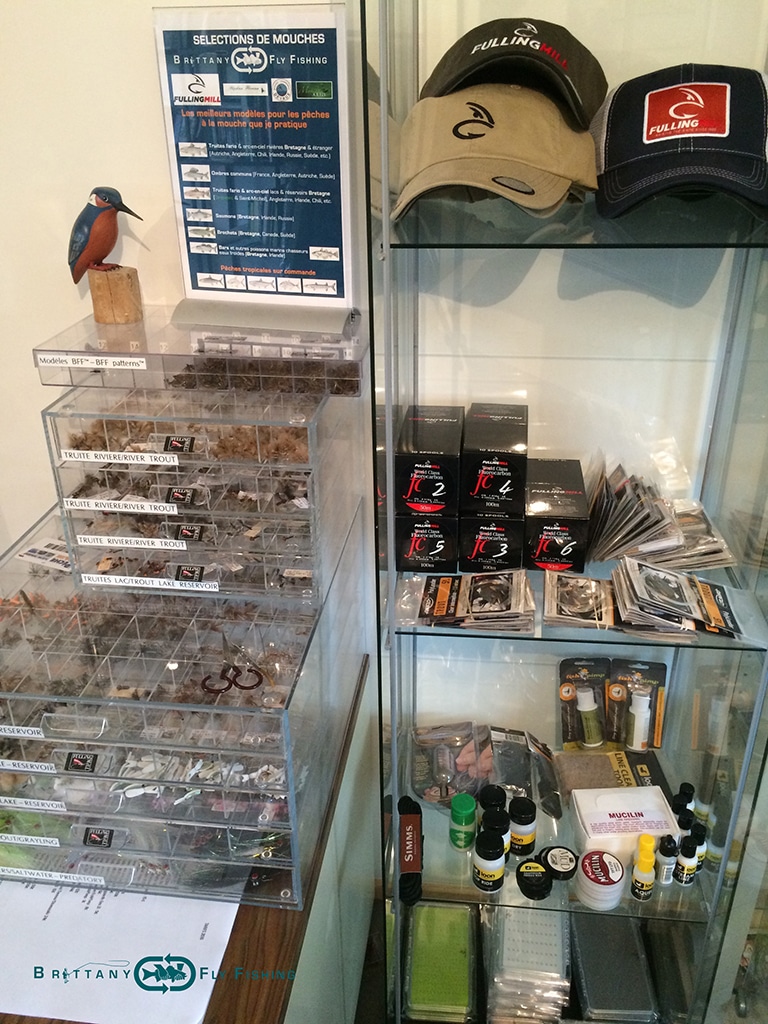 We have also a large selection of fluorocarbon tippet material (Fulling Mill World Class) as well as more conventional nylon monofilament, ideal for custom made knotted leaders (Kamoufil JMC) as well as the entire line of Airflo polyleaders for Stillwater and salmon/seatrout fishing.
We also carry a comprehensive (some 250 models) selection of fishing flies for almost every species that can be caught in our region and used when guiding my clients: wild brown trout in rivers and lakes/reservoirs, pike, sea bass, carp, salmon and shad.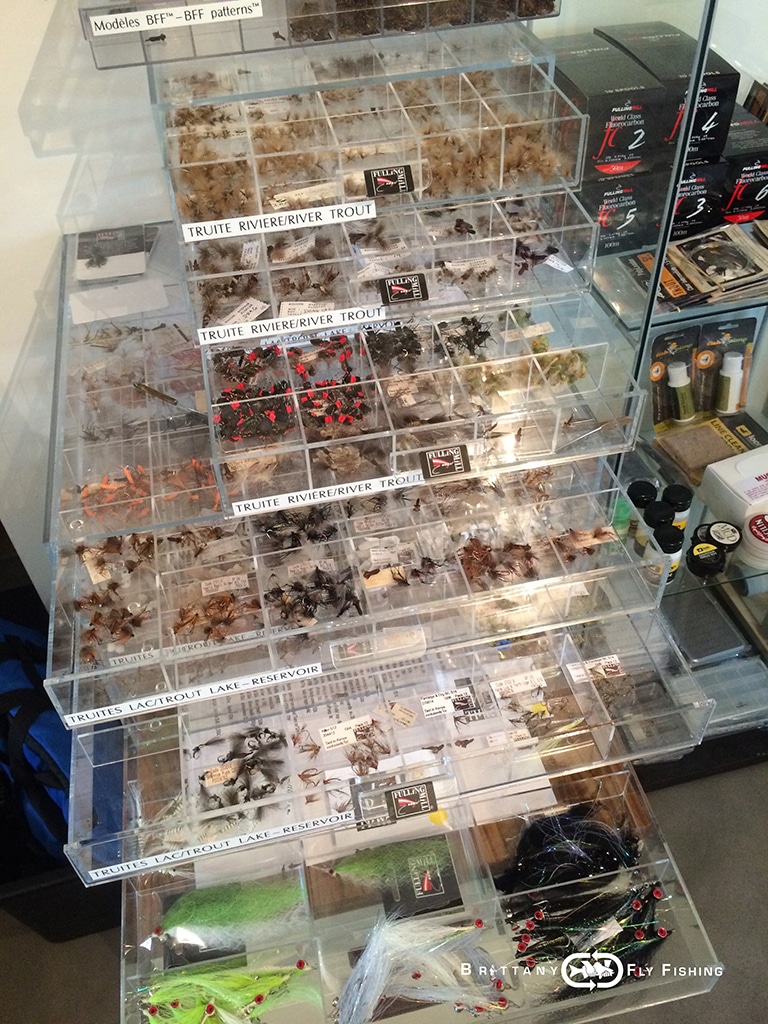 Every single fly pattern we offer has been chosen because of its effectiveness in Northern Brittany waters, tested and found true in most any condition over here. They are all my regular fly patterns used while guiding or just plain fishing, on the Léguer*, Elorn or Aulne rivers (among many more), while drifting for Drennec trout or when fishing for sea bass off my boat in the bay of Morlaix or the roadstead of Brest.
*The Léguer is my home river, located a stone's throw from my parents' house in Tonquédec and over the years I got to know it like the back of my hand.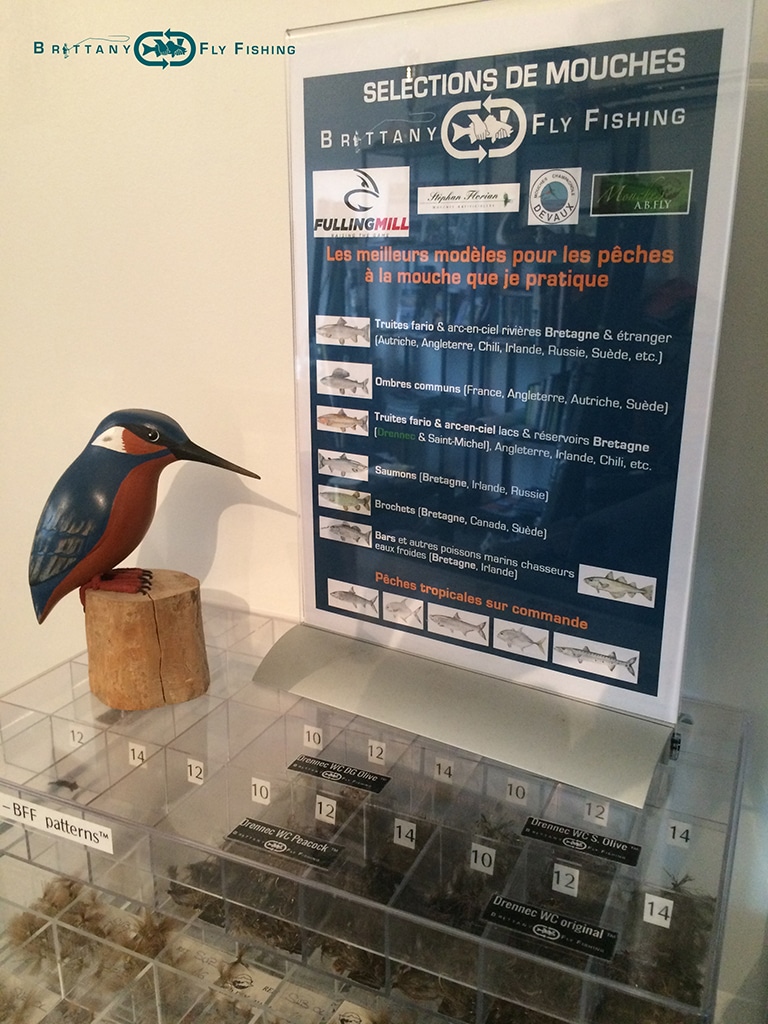 We sell flies made by the most noted French tiers (Florian, AB Fly, Bailly, N. Germain, Devaux) and we are also official Fulling Mill dealers, known for their fine flies for reservoir, pike and salmon/seatrout fishing.
A great number of flies we sell are hand-made right here in France, from premium natural tying materials.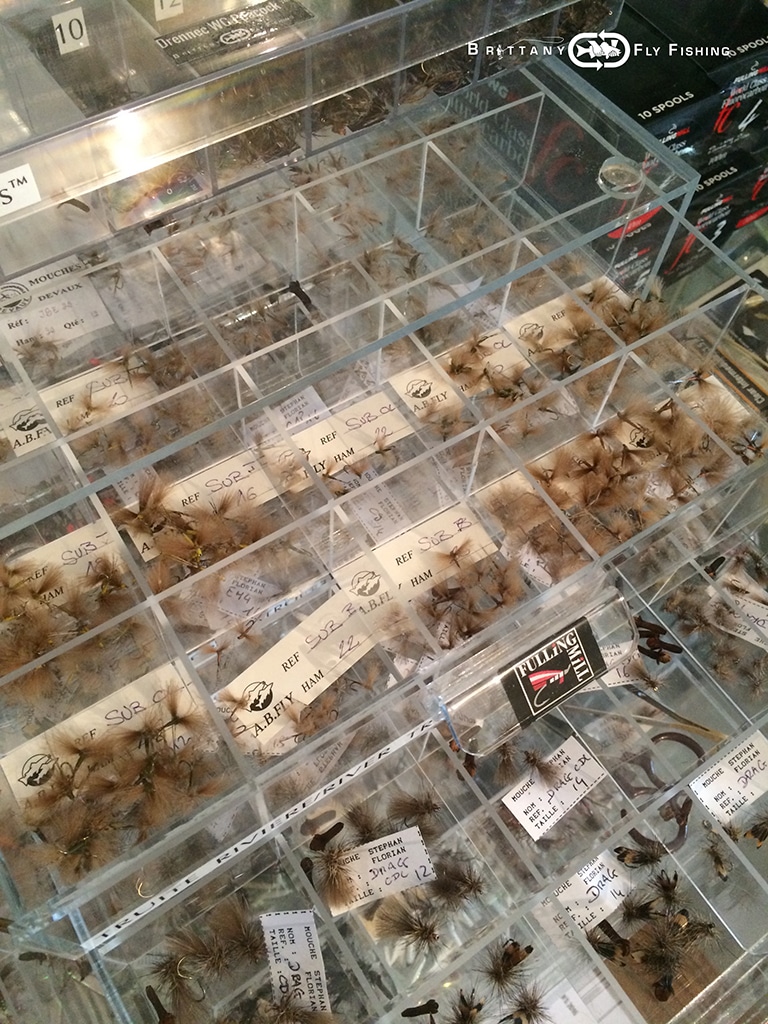 One novelty for 2016 are the Drennec Woodcock ™, a series of highly imitative wet flies that are particularly effective on Drennec Lake (and also in our trout rivers here). Entirely hand-made in France from exceptional natural tying materials, they are my personal concept, patent pending.
For all the other "hardware" like rods, reels, vests, waders, etc. I am partnering with Le Moulin de Gémages, a very serious distribution business with a vast stock of outstanding products and great service. They carry a large number of big brand names like Winston, Echo, Abel, 3-Tand, Simms, etc. used in our classes and local guiding as well.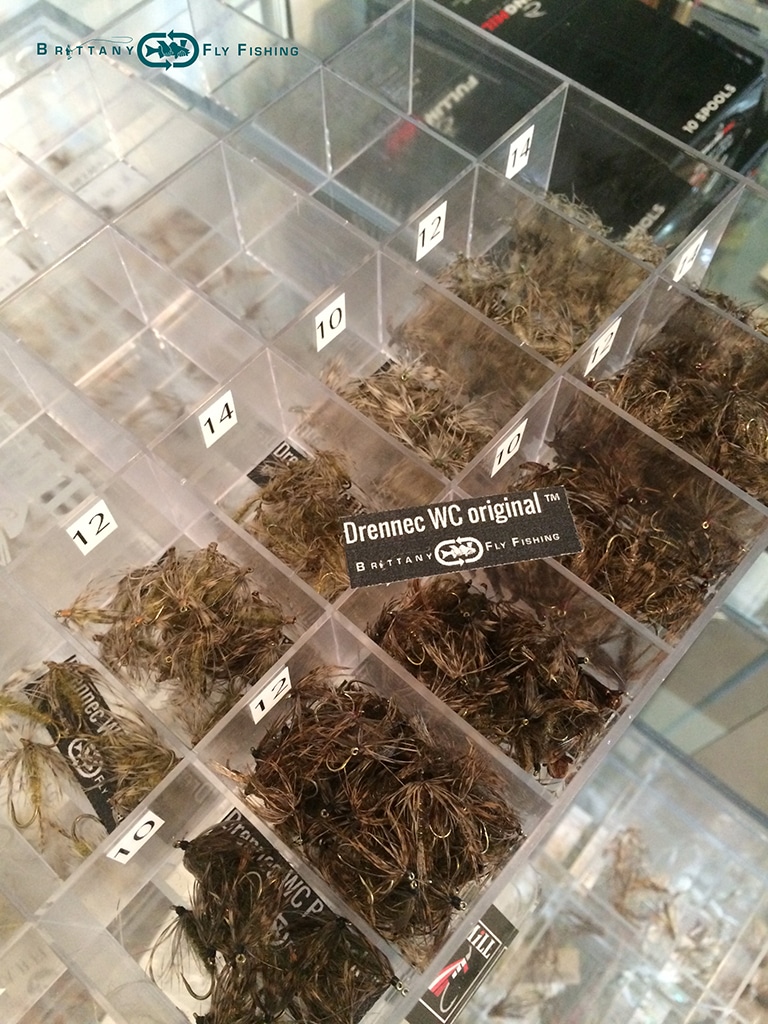 My Welcome Center does also have a "tourism" section with a selection of brochures and documentation of local entities I have partnered with and that promote the values of our territory: the Roscoff Côtes des Sables Enclos Paroissiaux Communautaire Lannion Trégor tourism offices. The brochures and information material contain a large selection of other partners that are actively involves in our local tourism: lodgings, museums, organic food producers, restaurants, crêperies (pancake houses) art shops, etc.
We also carry the annual GLI licenses of the Finistère Angling Federation.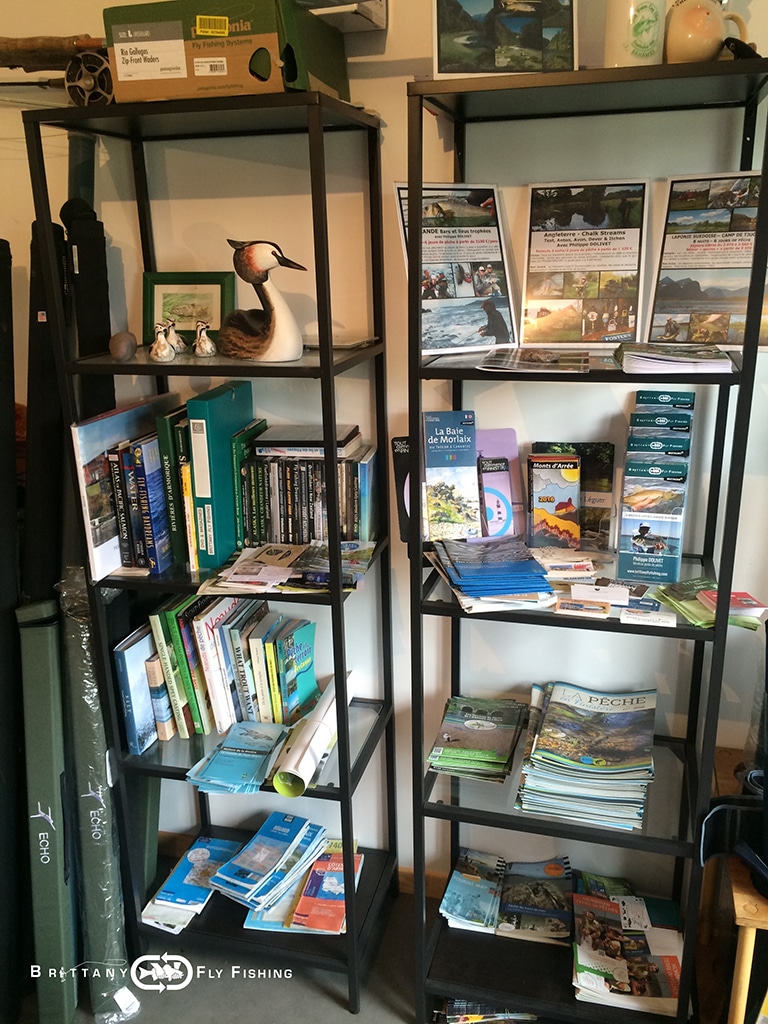 Last, but not least, my friendly Welcome Center can double up as a home base for my students during inclement weather, when I can show them the intricacies of fly tying, or they might want to view a fishing DVD, read a magazine or just sit around the table and enjoy a glass of local organic cider, in a unique passionate 100% fly fishing atmosphere!
Contact me at 0033 06 42 03 93 66 or under [email protected]