Fly fish and guide for sea bass in Brittany
As I am preparing my 8th season to fly fish and guide for sea bass in the shallow inshore waters of the Bay of Morlaix and the Roadstead of Brest, using my fly-fishing specific Carolina Skiff, I look back on past seasons and forward to another one with some encouraging thoughts.
Two new videos allow my customers to discover this product, the ambiance on board, the prevailing angling ethics as well as the fish species caught and released!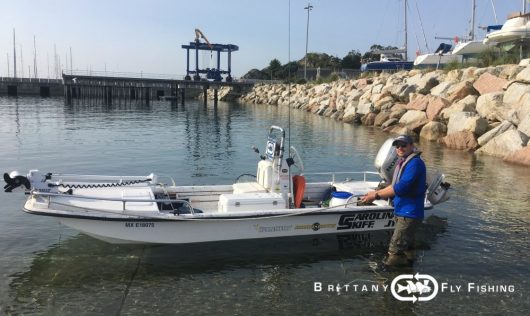 It is evident that fighting a 2 to 3 lb fish on 7- or 8-weight fly tackle cannot be compared to the same fish fought on spin tackle, fly rods are just way more flexible and the tension on the line is mostly managed with the sensitive line hand. As fly reels are direct drive with line coming straight off a revolving drum, every fish that takes out line off the spool provides another thrilling sensation when it shakes its head and surges for the deep, drag screaming.
The first four seasons were extremely rewarding with many fish caught between my customers, my friends and myself. Every fish beyond 20 inches (about 3 lbs) was then considered a "nice one" taken on fly tackle. On some days we were able to fool 20, 30 and even 40 fish per day between 2 anglers, but they mostly were juvenile fish, measuring between 36 cm (then the legal limit) and 42 cm (the actual size limit, implemented in 2012).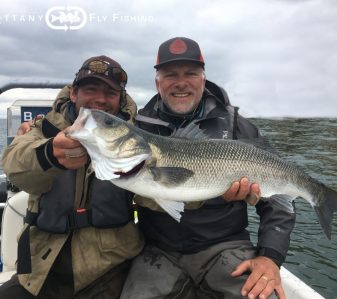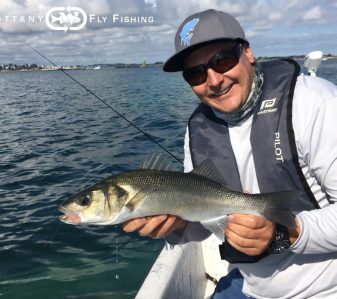 When it came to large fish, 60 cm or 24 inches were the limit with fish weighing in between 5,5 and 6 lbs. One might say that those are very nice fish on fly but considering that there are much bigger specimen available in our estuaries, specifically tackled from shore by gear anglers using plastic lures, it was obvious we did expect better on occasion.
Adding to this was the fact that sea bass in Southern and Western Irish waters were much bigger on average. Irish angling regulations of the day were quite specific with a limited harvest of one fish per day, a total protection of the species during the spawning season. (May and June) and especially a zero-tolerance attitude adopted by authorities in case of regulation trespassing, a management scheme that seems to bear fruit.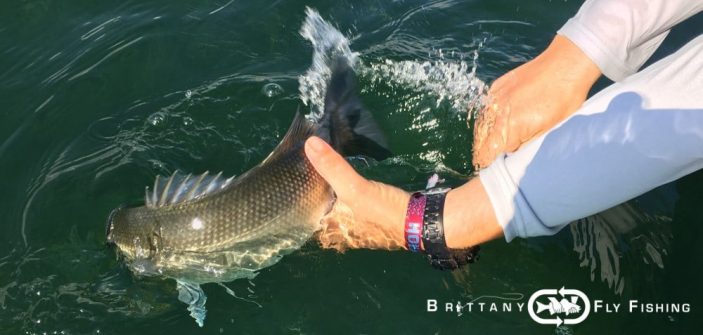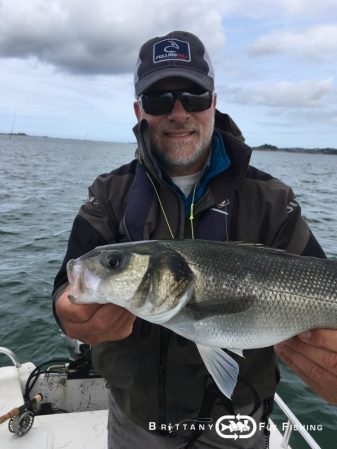 The 2014 and 2015 seasons were very disappointing with fish numbers dwindling for specimen beyond the 45cm (18 inch) mark, usually (age group 5 to 6 years). Even though I put in added efforts (longer hours on the boat, moving the boat often and prospecting new areas) to find better fish, some of my less experienced customers with less developed casting skills had a hard time getting into fish, struggling as their flies had less time in the water with reduces chances to fool fish.
When fishing water like this, it pays to be able to make long casts and fish a lot of water. Quick action, with a minimum of false casting, long lines are key to fishing fish. As the boat tends to be constantly moving, the captain needs to constantly readjust its drift pattern, the use of an electric trolling motor being a great help maneuvering, the latter's propeller must be shut off during the fishing. Rotating propellers scare away the fish and have an affinity to sucking in loose fly line drifting in the water.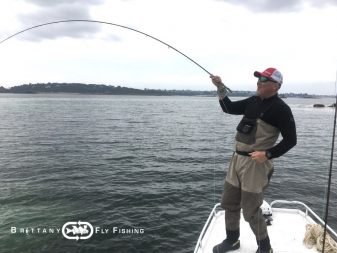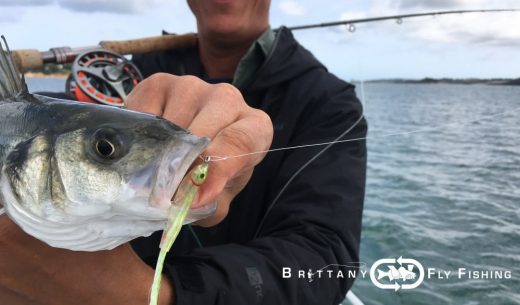 By the 2016 season, the angling harvest was then finally reduced to 1 fish per day of no less than 42 cm with a no-harvesting period by leisure anglers during the first 6 months. Results were almost immediate: fish sizes and numbers began to soar with quite a few fish of 45 to 55 cm (18 to 22 inches) caught by my customers, especially those with good casting and retrieving techniques. More often than not were Fulling Mill's Softy Sand Eels the culprit, by far the most productive fly, therefore used most often when guiding anglers.

FM Softy Sand Eels Chartreuse, White et White & Blue
When the conjuncture of moon phases and tides were at best, my customers were again able to catch up to a dozen of 2-lb fish (without mentioning the smaller specimen) – fish over 4 lbs were hard to find, however… By 2017, things have vastly improved, possibly because stars have aligned for the better: an early warm up of inshore waters, a number of dog days in summer, higher levels of salinity due to lower water in fresh water tributaries, an abundance of baitfish everywhere, etc…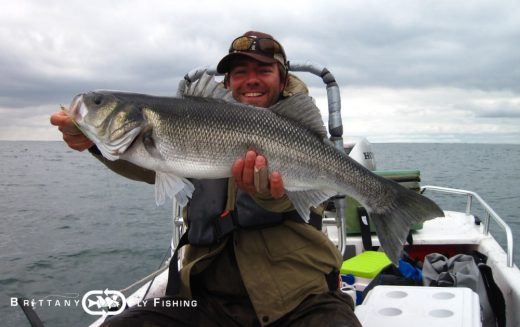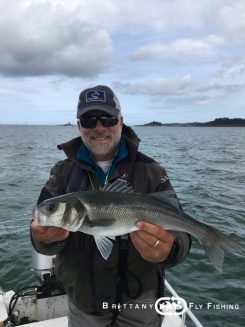 No matter what the reason, the facts remain, I have been able to put my clients on fish in excess of 55 cm (22 inches) with specimen up to 73 cm (over 28 inches) and about 10 lbs.
Besides sight fishing the tidal flats with crab patterns, we have never been able to catch sea bass in such sizes in Brittany. Using surface and subsurface presentations with lines such as Rio's InTouch Striper Floater, InTouch Striper Intermediate, Coastal Quickshooter and Coastal Quickshooter XP as well as fast sinkers like Rio's InTouch Striper 30ft sink tip 200 to 550 grain lines, we were able to intercept quite a number of very good fish.

My choice for surface and subsurface strategies : RIO InTouch Striper Floater & Intermediate, Coastal Quickshooter & Coastal Quickshooter XP

My choice to investigate the deeper water up to 6/7 meters-20/23 feet : RIO InTouch Striper 30ft sink tip 200 à 550 grains
One fly pattern that must not be forgotten is Fulling Mill's Slinky Clouser !
I would like to emphasize that I do not usually endorse products by disguised interest (people who know me can attest to that). I use those products extensively and rely on their inherent qualities, function and solidity to make happen my guiding business. I usually don't say white when in fact I mean black!

FM Slinky Clouser. Available in sizes #2, #6 et #2/0
The use of good lines and effective flies is a key element to success, yet not the only one, luckily. Angling strategies, extensive knowledge of fish, fish behavior, of the areas fished with prevailing tides and wind patterns are absolutely required and I keep those essential elements at the disposal of my customers that trust me in the matter.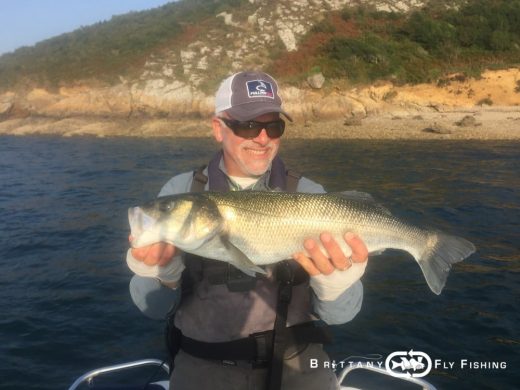 It has always been "fashionable" to discreetly follow fishing guides to their secret haunts (or investigate pictures published in the media) to figure out the better angling spots and go hammer the fish there once they have left. As I am neither paranoiac nor stupid, yet I prefer to keep a certain level of discretion. Now, that mandatory no-kill practices are in place (let's hope it will last!), it still pays to rest some of the sea bass, that, like trout, need some time without molestation from anglers. We would not want to risk turning them into exclusive night-feeders, either.
I do release all of my fish and have been doing it for 7 years. The keep growing, as I gladly can observe and thus keep my customers happy. I try to manage my fishing grounds as to limit angling pressure, providing good sport for my passengers. As far as I know, there is no other fly fishing guide specialized in sea bass angling in France the way I am doing it, nor have I crossed path with a colleague in Breton waters.
The sea belongs to us all but it would be disagreeable if there were "followers" my tracks, guides or anglers alike, that would take unfair an abusive advantage of my research and the fact that I release all the fish we catch on my boat! Territories are vast and the areas I frequent are microscopic in relation to the immensity of the Bay of Morlaix or the Roadstead of Brest. It should be evident that everyone interested in fishing for sea bass should invest its own time and energy into finding productive water.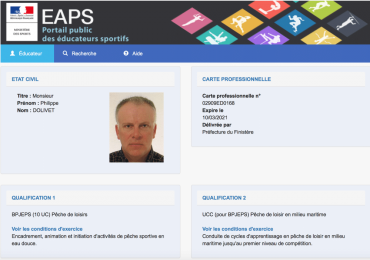 In France, guiding in saltwaters requires a particular certification that is the professional guide's guaranty. Check before boarding !
To get back into the core of the subject: I hope that we will see more of the better fish in the future with protective measures in place and the fact that my guiding and angling strategies have noticeable evolved over the years.
In order to offer new grounds to my customers, I keep prospecting new areas that fill my portfolio of areas to guide in, whatever the level of the tide may be.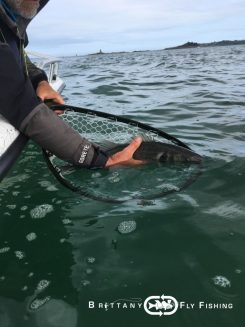 With this in mind I am looking forward to the upcoming season – all the fish must now be released, in theory this should provide for excellent sport as there should be many more fish around; in 2018, the record books should be rewritten.
Reservations for guided sea bass fishing are accepted as of now, guided fishing will begin in June 2018 and will run into late October
There are only a handful of very favorable days each month (tides), therefore it will be indispensable to make reservations way ahead of time.
For further information on guided fishing for sea bass,
please consult :