Fly fishing tuition begining April 1st, 2019
Fly fishing tuition represents an important part of my activity as a sports instructor so I have been able to develop a pedagogical method of teaching the fundamentals in a matter of hours, the individual's ability to acquire new knowledge and moves also playing a certain role, of course.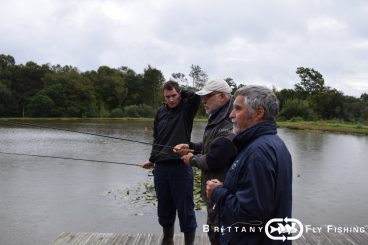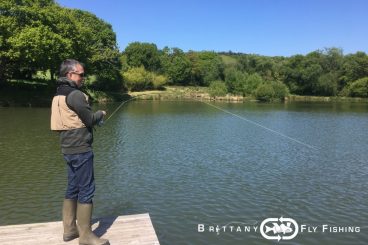 One-on-one or even better, one-on-two teacher-pupil ratios are most efficient, but I also cater to groups of up to 12 people, corporate groups, large families, stag parties or discovery-day company incentives.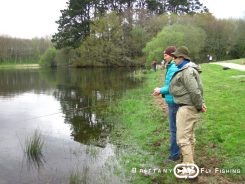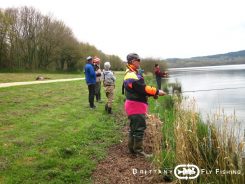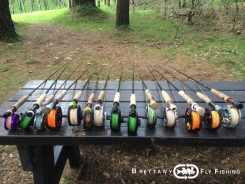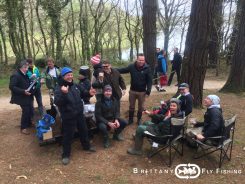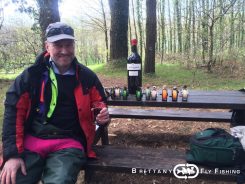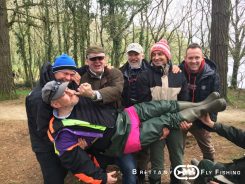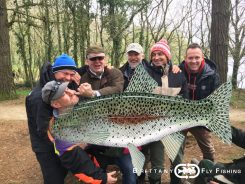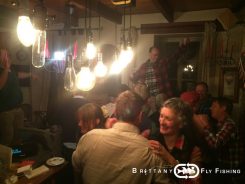 For all those with bigger goals, that want to move beyond basics and become proficient fly anglers, tackling wild brown trout in rivers and streams, a three-day course is recommended. It is possible to combine the tuition with lodging at one of my local partner's venues.
Depending on the situation, I welcome my students at a one-hectare private water, totally exclusive, located in the green heart of the Monts d'Arrée, away from stress, noise and other contemporary nuisances. It is an ideal place to discover the subtleties and the emotions only fly fishing has on offer, either on your own, as a couple, with family or with friends.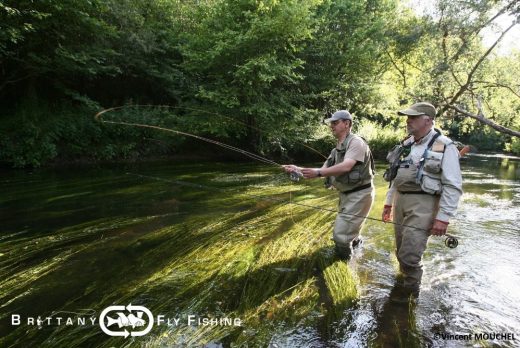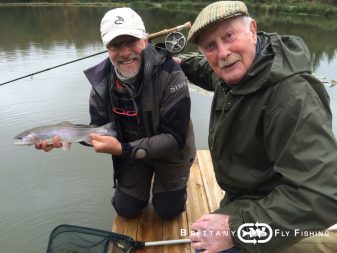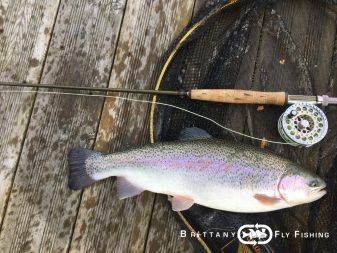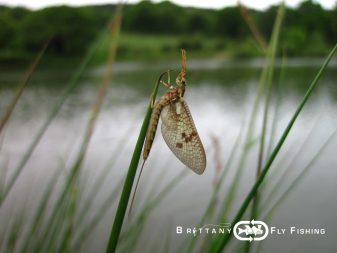 This stillwater is open all year and does not require a fishing license, harbors a large number of very pretty and sizeable trout, providing a great incentive for my students; they can catch fish on their first day fishing with fly tackle. The venue also has a comfortable cabin (with dry toilet) to find shelter during a downpour and offer room for a pick-nick. My students' wives and or parents, have found the place particularly adequate to admire their kin in all comfort.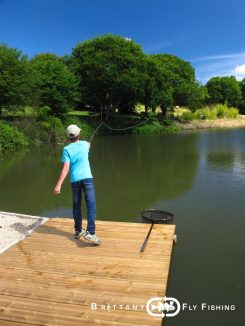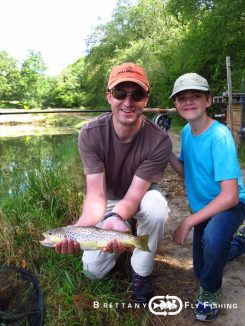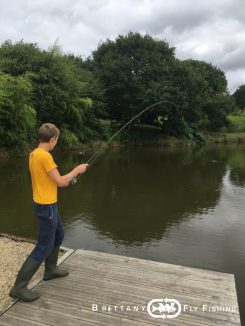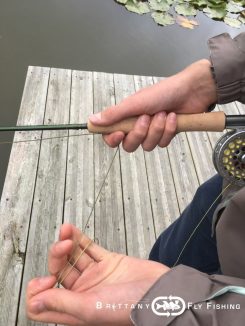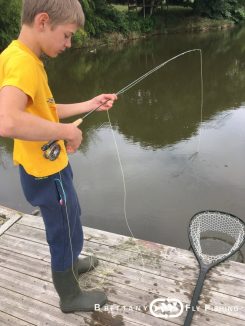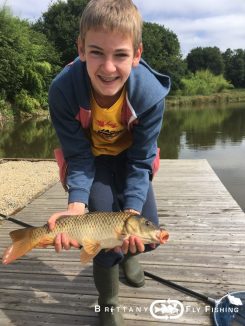 A casting dock allows for easy casting and a boat can be used to follow up on some of the bigger fish.
For groups of over 4 students, Drennec Lake is an ideal venue, even though it will not be easy to fool fish into taking a fly. There are some roach and rudd available, however, to keep newcomers happy and catch their first fish on fly, always a memorable experience in an angler's life.
I have all sorts of tackle, rods, reels, lines, flies, etc. available for my students and can offer full-service that includes tuition, fishing permits (day ticket), tackle for hire and improved shore pick-nick made from regional organic products.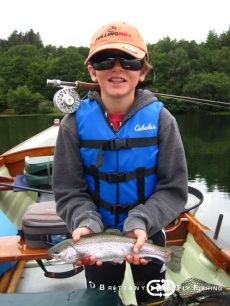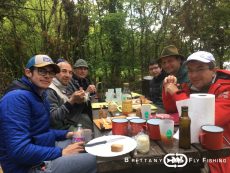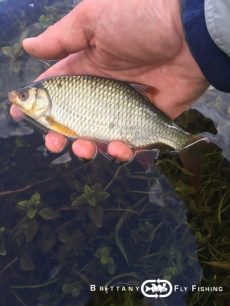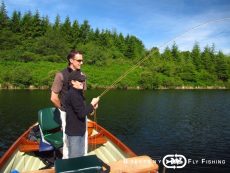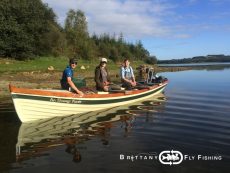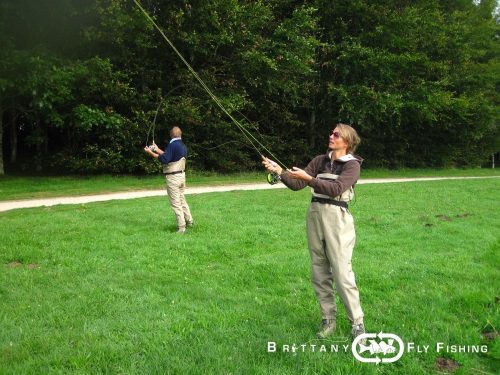 My private venue boasts a large number of roach and carp in all sizes. Those fish are ideal partners to help even small children discover the joys of fishing. I welcome kids aged 8 and over under condition they are in the company of a parent, Kids ages 13 and over need parental authorization only.
On the menu:
discovering the basics of coarse fishing (float and Bologna rods) and, depending on the abilities and motivation of my young students, the basics of fly fishing. Please inquire for detailed information.
Includes:
tackle for hire, pick-nick.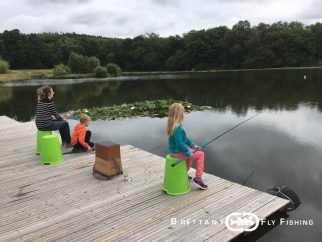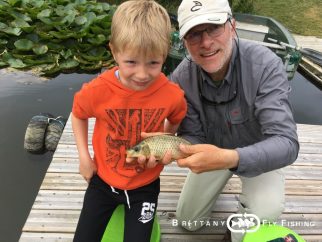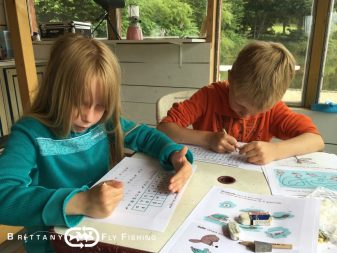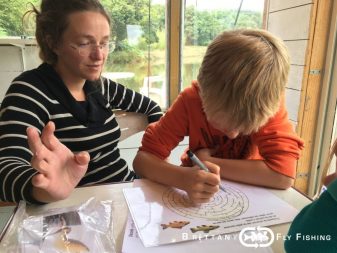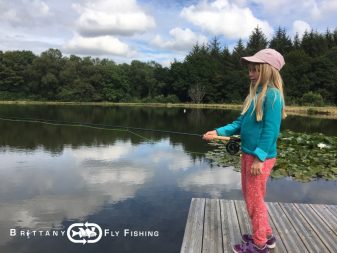 For further information about my fly fishing tuition program