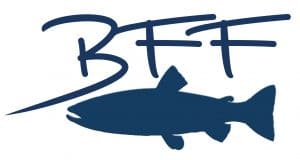 I can help my customers discover one of the very best wild brown trout lakes in Ireland, Lough Sheelin, located to the northwest about a 90-minute drive from Dublin, amidst the counties of Meath, Westmeath and Cavan. It is a portion of the headwaters of the Shannon watershed and managed by the Shannon Regional Fisheries Board.
This is not a manmade body of water with an even lake bottom, but a natural alkaline lake of some 4580 acres oriented in a northeasterly-southwesterly fashion and fed by a number of rivers and streams (9 tributaries for a catchment of some 61500 acres) and located on some of the finest limestone and quartzite substrates.
The extraordinary qualities of Lough Sheelin for the surface fly angler are multiple: on the one hand its waters are very clear, the banks of the lake have numerous shallow coves and bays, grassy flats areas, breaks and subsurface structure and the lake's surface is dotted with forested islands, a perfect haven for wild brown trout as it produces a huge biomass of insects the fish feed on. The lake itself is quite shallow (up to about 50 feet) with an average depth of about 15 feet, which makes it a prime area for invertebrate life: ephemeroptera, trichoptera and diptera.
It surely ranks among the most productive bodies of water in Western Europe in terms of producing the largest emergence of Ephemera Danica or Mayflies. I have had the privilege to witness the hatch in May 2018 which was at record level in 25 years ; I have never seen as many large mayflies, ever.
This productivity is fueled by particularly favorable conditions : its limestone waters with an elevated pH level boost the growth rate of aquatic invertebrates and hence the growth of the fish and the sandy bottom covered in coldwater weeds are a perfect haven for the burrowing larvae of the mayflies.
Lough Sheelin harbors an estimated 44000 trout in sizes 2 to 4 lbs, without mentioning the smaller and also much bigger fish…
During the evening rise, with dry flies on the cast with "spents" present on the surface (locally knowns as "gnat fishing") it's not uncommon to raise fish of 5 to 6 lbs, on fly tackle, and each year real behemoths of the depth are caught that way (the lake record being 13,5 lbs!). Ditto during daytime at the peak of the hatch when a team of wets slowly retrieved through the wave or a combination of nymphs dangled over sandy, grassy bottoms can get stopped dead by a trophy fish at any time.
Fly anglers would be unwise to limit Lough Sheelin's excellence to Mayfly season alone. Even though the view of entire clouds of insects dancing across the treetops on the banks and the lake's islands is mind blowing, Lough Sheelin is the theater of numerous other insect hatches.
Duck flies (large diptera, buzzers) and lake olives will attract the trout to the surface by early April, large caddisflies (Great Red Sedge or Murrough) will be particularly active in the coves and bays when a sedge imitation pulled across the surface can induce heart-stopping strikes with rods bent double, even during the peak of Mayfly season that lasts about 3 to 4 weeks
In June and July, Caenis hatches get light-tackle early-risers onto the water while the spawning perch have streamer anglers waiting to cover the feeding frenzies with baitfish imitations.
The height of Summer is buzzer time, (Campto and Apple Green Midge) with many fish feeding on these insects during their various stages of evolution, correct line choices provided, reed smut will also play along.
Better daylight activity will happen again come autumn when Silverhorn Sedges are present (Lepcoceridae), with late Summer being the one of the best times to fish the lake, that closes its fishing on October 13, 2019.
The stays I offer this season will be limited to the early months of the season, as it will allow me to combine both lake and river fishing, depending on prevailing conditions and the gusto of my customers.
When fishing the lake I will rely on one of the very best local guides, who has become a friend, and the both of us will team up to serve groups up to 4 anglers with our two boats, revolving the customers between boats or me guiding them individually if river fishing is the desired choice of the day.
During my guiding season in Ireland, I will bring my personal 19-foot Sheelin Boat that I use on my home waters in Brittany. It has been adapted to suit Sheelin and other Irish conditions, fishing for trout and pike.
Yamaha 15 CV 4 tps
Minn Kota EO 1 HP
Fish Finder Digital Sonar GPS Humminbird Chirp Helix 5 G2 HD
I am also equipped with a portable power generator Honda (EU 20i) that enables me to quickly recharge the trolling motor batteries during mid-day breaks when the electric trolling motors need to run at maximum.
The advantage of a powerful aft-mounted electric trolling motor is the possibility to quickly and discreetly regain productive drift lanes, while it would take forever and with much more noise using but the oars. In slick waters this is a real boon as fish tend to be much more discreet, especially in the early morning and late evening hours.
I can also provide the entire range of high quality equipment (BFF custom rods, reels, lines, flies, etc…) if so required.