Fly fishing for seabass in Brittany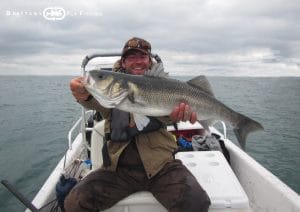 The estuaries and rocky coastline of Finistère, the extreme northwestern region of Brittany (and France) is a real bonanza for fly anglers targeting European sea bass (Dicentrarchus labrax). The shallow inshore regions inhabit by this merciless predator and outstanding gamefish extend across many tens of thousands of acres. The coastal waters harbor a very abundant pantry for sea bass: crabs, shrimp and baitfish find shelter here and attract all sorts of predators of which sea bass are the most emblematic (other players are also present during the season: mackerel, horse mackerel, Atlantic bonito, Pollack, needlefish, etc…)
Whatever the level of the tide, there is always a bass on the prowl somewhere, ready to grab an artificial fly presented at the right depth.
A professional Fly fishing guide in Brittany
I have been exploring this angler's paradise for many years now and got to know my preferred angling haunts like the back of my hand. In order to be able to show my customers new venues, I am constantly looking for new areas to enlarge my guiding territory across all tide levels. My specialized flats-type fly fishing boat with its very shallow draft and electric trolling motor allows me to access many spots where classic boats with a deeper hull and conventional motors cannot venture, like sanctuaries where sedentary fish are protected from angling pressure and can to respectable sizes all along the seasons. Depending on prevailing conditions, I am guiding sea bass anglers in the bay of Morlaix and the roadstead of Brest from May to November, focusing on respectful angling ethics and practicing strict catch-and-release policies.
Since captured fish are generally being released and because of strict harvesting rules in place (size limit 42 cm, one fish allowed to be kept per day and per angler), still scandalously insufficient for the commercial harvest, I have observed a rebound in numbers especially of specimen fish in the areas I am guiding in, which are located away from commercial fishing as well as from recreational meat anglers (still out there, sadly!). Over the past seasons, I have had the great pleasure to catch as well as to guide anglers to trophy sea bass over 10 lbs that were subsequently released (I insist on that fact), a real event in the lifetime of a seasoned sea bass fly angler. These types of catches should become more sustainable over the coming seasons, as my guiding strategies have evolved and the fly angling techniques have become much more refined over the years. In 2018, with new regulations in place that protect sea bass altogether (all fish MUST be released), chances are that many more fish will remain in the areas for the benefit of ethical anglers.
On special request, I can also guide anglers on foot to stalk trophy sea bass along the Brittany shoreline.
Philippe Dolivet, mainland Europe seabass fly fishing specialist, welcomes you on his fly fishing boat to discover the untapped waters of the bay of Morlaix and the roadstead of Brest in the Finistère department of Brittany.
I would love to welcome you aboard my boat, specially outfitted to accommodate anglers tackling seabass on the fly, awesome game fish in its own right (among other species) amidst the coastline of my region, beautiful Finistère, offers the full array of estuaries, inlets, beaches, rocky shoreline, islands, etc.
Fishing Territories
Estuaries, inlets, rocky coastline and beaches
Bay of Morlaix, roadstead of Brest & the Elorn river estuary
Boat slips
Bay of Morlaix : Roscoff Marina slipway
Roadstead of Brest : Lanvoy slipway (Hanvec-Le Faou)
My guiding packages include
My packages include guided fishing, tuition, lunch picnic, high-end tackle for hire (rods reels, lines, flies) to help maximize success on the water. Anglers will need to bring wading equipment, insulation and rain gear.
You are welcome to bring your own tackle as well as your private flies, of course.
Duration: 8 to 10 hours, depending on prevailing weather conditions.
The program
Tuition and advance lessons: saltwater fly fishing for seabass and other game fish species, guided boat fishing (fishing bait balls, blind and sight fishing).
Use high-grade specialized tackle for hire (rods, reels, lines, terminal tackle, flies,…) imitating naturally occurring forage (shrimp, crabs, sand fleas, baitfish, worms,…) and attractor patterns.
Sight fishing bait balls, blind fishing, fishing currents and fish lies.
Learn the ways of seabass, their biology, the behavior, notions of marine biology and ecology, observing nature and animals (fish, marine mammals,…) birds and marine plant life.
Tides
Early on in the season, I plan the fly fishing according to the occurring tides of the upcoming season, using several factors and criteria gained from my experience made with a fly rod in hand: tide coefficients, daylight hours, solunar observations… This planning is then mailed to my regular and new customers to help them make their preferred choices.
Seasons
Mid-june to late november (depending on weather conditions and tide coefficients).
The weather is an all-determining factor with an eye of the prevailing winds that can limit fly fishing in the ocean.
If conditions will not allow any fishing in the ocean (wind speeds exceeding Beaufort 4/5) I can make an offer for alternative activities.
Fly fishing for seabass | Photo gallery